Rediscovering Life's Promise:
Christian Rehab Center
for Adult Men and Women
at Great Lakes Adult & Teen Challenge
 Addiction knows no boundaries regarding its devastating impact on individuals, regardless of gender. Great Lakes Adult & Teen Challenge understands the need for a supportive and faith-based environment for adult men and women seeking recovery from addiction. This Christian rehab center is a haven of healing and renewal, offering comprehensive care tailored to address both genders' unique challenges. By combining evidence-based treatment with a spiritual approach, Great Lakes Adult & Teen Challenge empowers individuals on their path to lasting recovery.
Finding Redemption Through Faith
Faith can play a vital role in the recovery process for adult men and women. Recognizing the transformative power of faith, Great Lakes Adult & Teen Challenge integrate Christian principles into their rehabilitation program. By combining evidence-based practices with spiritual guidance, they offer a unique approach to recovery that nurtures faith, fosters personal growth, and inspires lasting change.
Separate Men's and Women's Rehab Programs
Great Lakes Adult & Teen Challenge recognizes the importance of providing gender-specific rehab programs to cater to the distinct needs of adult men and women. Understanding that recovery can be influenced by gender-specific factors, the center maintains separate rehab programs for men and women. This approach ensures that individuals receive targeted care that acknowledges and addresses the unique challenges they face on their journey to recovery.
Comprehensive Care for Adult Men
Men battling addiction require specialized care that considers their unique experiences and challenges. At Great Lakes Adult & Teen Challenge, the men's rehab program provides comprehensive care tailored to meet the specific needs of adult men. From detoxification and medical care to counseling and therapy, men receive personalized treatment that addresses addiction's physical, emotional, and spiritual aspects. Through evidence-based therapies and a supportive environment, adult men can embark on a transformative healing journey and find renewed hope for their future.
Empowering Recovery for Adult Women
Similarly, adult women struggling with addiction require a nurturing, compassionate space that acknowledges their needs. Great Lakes Adult & Teen Challenge offers a dedicated women's rehab program, providing a safe and empowering environment for women on their path to recovery. The program addresses women's unique emotional, physical, and spiritual dimensions of addiction through individual and group counseling, life skills training, and spiritual guidance. By focusing on building self-worth and fostering personal growth, adult women can reclaim their lives, restore their sense of purpose, and envision a future filled with hope and fulfillment.
Combining Evidence-Based Treatment and Spiritual Guidance
Both the men's and women's rehab programs at Great Lakes Adult & Teen Challenge integrate evidence-based treatment modalities with spiritual guidance. The center recognizes the transformative power of faith in the recovery process and incorporates Christian principles into its programs. Through daily devotions, prayer, and spiritual mentorship, individuals can strengthen their relationship with God, find solace in their faith, and draw upon spiritual resources for strength and resilience on their journey to lasting recovery.
Counseling and Therapy for Lasting Transformation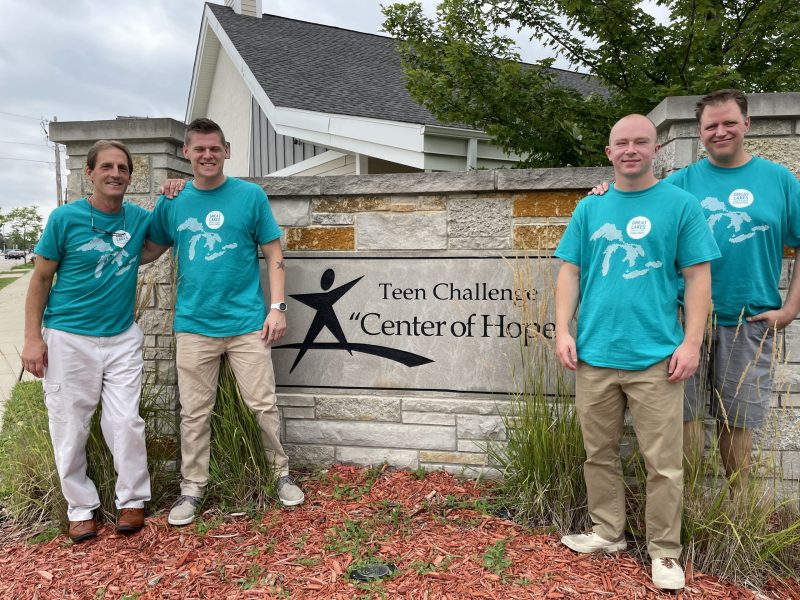 Individual and group counseling sessions are pivotal to the Great Lakes Adult & Teen Challenge recovery journey for adult men and women. Licensed therapists offer personalized support, guidance, and evidence-based therapies to address the root causes of addiction and equip individuals with healthy coping mechanisms. These counseling sessions occur in separate settings on the men's and women's campuses, ensuring a safe and comfortable environment for open and honest discussions. This separation allows for the specific needs and experiences of adult men and women to be addressed effectively, facilitating lasting transformation.
Empowering Life Skills and Educational Opportunities
Great Lakes Adult & Teen Challenge recognizes the importance of equipping individuals with essential life skills and educational opportunities. The men's and women's campuses provide comprehensive educational and life skills training programs. On the men's campus, men can access educational programs to acquire or improve academic skills and obtain their GED. Similarly, the women's campus offers educational opportunities to enhance academic abilities. Vocational training programs are also available on both campuses, enabling residents to develop valuable skills that enhance their employability and promote self-sufficiency.
Aftercare and Ongoing Support
Great Lakes Adult & Teen Challenge is committed to providing ongoing support for adult men and women, even after completing their program. A comprehensive aftercare program and alumni support system are in place to ensure that individuals receive continued counseling, access to support groups, and mentorship. This post-rehabilitation support helps graduates navigate life's challenges beyond the center and maintain their commitment to long-term recovery.
Discovering Wholeness and Renewal: Embracing Lasting Recovery at Great Lakes Adult & Teen Challenge, a Christian Rehab Center
Are you or a loved one seeking a transformative path to recovery? Look no further than Great Lakes Adult & Teen Challenge, a renowned Christian rehab center dedicated to helping individuals break free from addiction and reclaim their lives. Our compassionate and experienced team provides a holistic approach to healing, combining faith-based principles with evidence-based therapies.
At Great Lakes Adult & Teen Challenge, we understand that addiction affects not only the individual but their families, so we offer comprehensive programs tailored to the unique needs of adults and teens. Through our faith-centered approach, personalized counseling, and supportive community, we empower individuals to overcome their struggles and find lasting freedom.
Check out our website at https://greatlakesatc.com/ to learn more and take the first step towards a brighter future.