To be as self-sufficient as possible, Great Lakes Adult & Teen Challenge fundraise through the sale of books and wooden crosses. Our books tell inspiring Teen Challenge drug rehab experiences and provide a more in-depth look at our humble beginnings, while our crosses are handmade by the men in our low-cost drug rehab and alcohol rehab program. 
The Cross & The Switchblade by David Wilkerson 
This best-seller chronicles how Teen Challenge was started by Rev. David Wilkerson in 1958 and has sold over 40 million copies worldwide. It is the riveting story of the founding of Teen Challenge, beginning as an inner city ministry and now spanning the globe. But, even more, it is a story of how the most unlikely people can hear – and follow – God's call to do the impossible. 
Book Description 
The tortured face of a young killer, one of seven boys on trial for a brutal murder, started country preacher David Wilkerson on his lonely crusade to the most dangerous streets in the world. Violent gangs ruled by warlords, drug pushers, and pimps held the streets of New York's ghettos in an iron grip.  
It was into this world that David Wilkerson stepped, armed only with the simple message of God's love and the promise of the Holy Spirit's power. Then the miracles began to happen…  
The Cross and the Switchblade is one of the most inspiring and challenging true stories of all time. It has sold millions of copies throughout the world and was even made into a feature film. 
Buy The Cross and the Switchblade
Run Baby Run by Nicky Cruz with Jamie Buckingham 
Run Baby Run tells the story of Nicky Cruz, a savage street fighter living in New York when he met Rev. David Wilkerson. The message of Jesus Christ greatly impacted Nicky's life. Now Nicky speaks to over one million people a year, sharing his life experiences and the hope he found in Jesus Christ. 
Book Description 
Imagine being born into a family bound by the worship of evil spirits and the occult. Fast forward to the streets of New York City where being the leader of one of America's most violent gangs was a badge of honor. Discover the miracle of a life transformed from driven by drugs, violence, and crime to one serving Jesus Christ! 
Nicky's best-selling autobiography, Run Baby Run, has more than 12 million copies in print in over 40 languages. He has preached to more than 34 million worldwide in over 35 years of ministry and has been the guest of political figures and heads of state from around the world. 
Wooden Crosses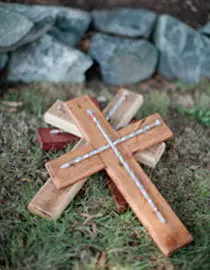 In 2013, Adult & Teen Challenge of Wisconsin was blessed with the opportunity to open a woodshop, where residents can now learn woodworking skills. Since its introduction into our recovery program, our residents have sold over 1,000 handmade wooden crosses – producing hundreds each month. 
Donation: $37.00 *includes shipping